Ludvig wants to fulfil himself. He appreciates meaningful work. Ludvig is aspiring to continuously learn, develop his skills and be heard at work. He wants to be actively involved in decision-making, more so than the generation before him. He takes on projects with a burning passion, but he is also quick to change jobs if he feels powerless or that he is not being heard. Ludvig is a millennial.
Millennials have brought about a major transition, also in corporate resourcing processes. In order to be functional, these processes must be increasingly employee-oriented. Supervisors and team leaders have noticed a megatrend driven by the millennial generation. For younger supervisors who are millennials themselves, the millennial era in working life is largely intrinsic and does not necessarily induce any specific challenges. For senior supervisors, the revolution in working life structures induced by millennials feels much greater. 
It is easy to support supervisory work in this working life transition, however. An effective resourcing tool enables the easy management of an employee competence repository and entering data on a highly specific level. The repository can include information on each employee's specific expertise and the direction into which they would like to take their careers in the future. In the system, an employee can enter their willingness to complete a specific certificate, go through further training or obtain work experience in a new area, for example. Employees can also express their interest in projects of a specific type. This way, employees' needs can be made visible within the organisation – something that is extremely important for millennials. With proper tools, information on their career ambitions no longer collects dust in HR's files and gets forgotten right after development discussions with their immediate supervisors. Instead, this information is gathered and updated as needed and it is accessible in real time when the company plans its resources for new projects. The wise management of employee competence saves both time and money. Consequently, employee well-being and commitment improves and profitability increases. It is a well-known fact that motivated employees perform better than people whose motivation is externally driven. 
The specific individual expertise of each employee is better in the open when properly documented. Instead of settling for generic competence descriptions, effective resourcing means that projects are staffed with just the right experts. In time, this specialist repository will turn into a competence map that covers the company's expertise as a whole. Once the information is transparent, supervisors and project leads will have things a lot easier while the millennials will find their work more meaningful and commit themselves to the company. This allows for a positive way to influence their career paths. Naturally, documented data will never replace one-to-one discussions between employees and their supervisors. Since supervisors cannot always be present when individual resourcing decisions are made, however, the repository makes it a lot easier for a project manager to sieve through the information and find the perfect people for each individual project. 
An effective tool also provides an upcoming project pipeline database that is visible to all employees and allows anyone to express their interest in projects of a specific type. It is obvious that even in the most optimal cases of project resourcing, not everyone is able to work on projects that meet their exact aspirations. What is still important is that you communicate to your employees that their requests and ambitions are always acknowledged to the extent that is possible and that decisions are always made fairly. 
How is your organisation tapping into the millennial revolution?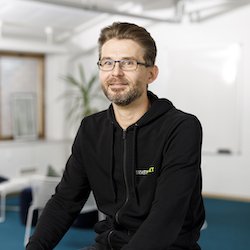 Tuomas Mikkola
CEO